SCHEDULE OF EVENTS
As we get closer to the event, we will provide more detailed information our general session and our special events that we have planned. Please keep in mind that all times listed are subject to change. Click here for instructions how to DOWNLOAD THE PFA TRADE SHOW APP to keep you connected.
SESSION & SHOW INFORMATION

Member General Session
Participating Vendors
Trade Show Layout
Evening Festivities
Vendor Order Bucks
Hot Spot
M Resort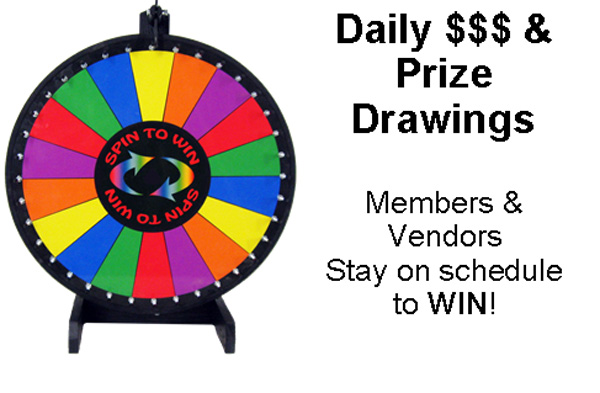 Planning Agenda
Please Note: All Times & Events approximate – subject to change, this is for planning information ONLY.
PFA MEMBERS
Tuesday, January 28
9 am
–
5:15 pm
General Session & Annual Meeting
6:30 pm
–
8:00  pm
Reception
Wednesday, January 29
7:30 am
–
9 am
Direct Import Room
9 am
–
6 pm
Trade Show
7 pm
–
11:00 pm
Evening Event
 
Thursday, January 30
7:30 am
–
9 am
Direct Import Room
9 am
–
6 pm
Trade Show
6 pm
–
7 pm
Closing Reception
EXHIBITORS
Tuesday, January 28
10 am
–
7 pm
Booth/Exhibit Set Up
6:30 pm
–
8:00 pm
Reception
Wednesday, January 29
7:30 am
–
8:00 am
Vendor Meeting
9 am
–
6 pm
Trade Show
7 pm
–
11:00 pm
Evening Event
Thursday, January 30
9 am
–
6 pm
Trade Show
6 pm
–
7 pm
Closing Reception
6 pm
–
10 pm
Booth Dismantle